It has been a while since I wrote a blog. I've been busy having a baby and balancing work, fun and sleep. When I'm not changing nappies, my 3 year old likes me to be Elvis Cridlington, Fireman Sam's incompetent sidekick.
Fancy a curry, Sam?
Being at work in Bradford gives me a chance to take sneaky curry lunches, and for some time I have been meaning to write about a couple of my favourite places. With the
World Curry Festival
this weekend in the city, here's my own 'celebration of all things curry'.
The Kashmir will be familiar to all Bradfordians. It competes with the nearby Karachi for the title "oldest curry house in Bradford", both of which were established in the 1960s to feed to increasing number of immigrant mill-workers, hungry for some home-style cooking. While the Karachi has ridden the Rick Stein wave -
the chef visited in 2002
and the Lamb and Spinach dish is now "Lamb Rick Stein" - the Kashmir has stayed largely the same.
Visitors to the Kashmir are confused by the upstairs/downstairs option, with the place often looking shut during the day. The wooden side door reveals a shady stairway and aromas of what's to come.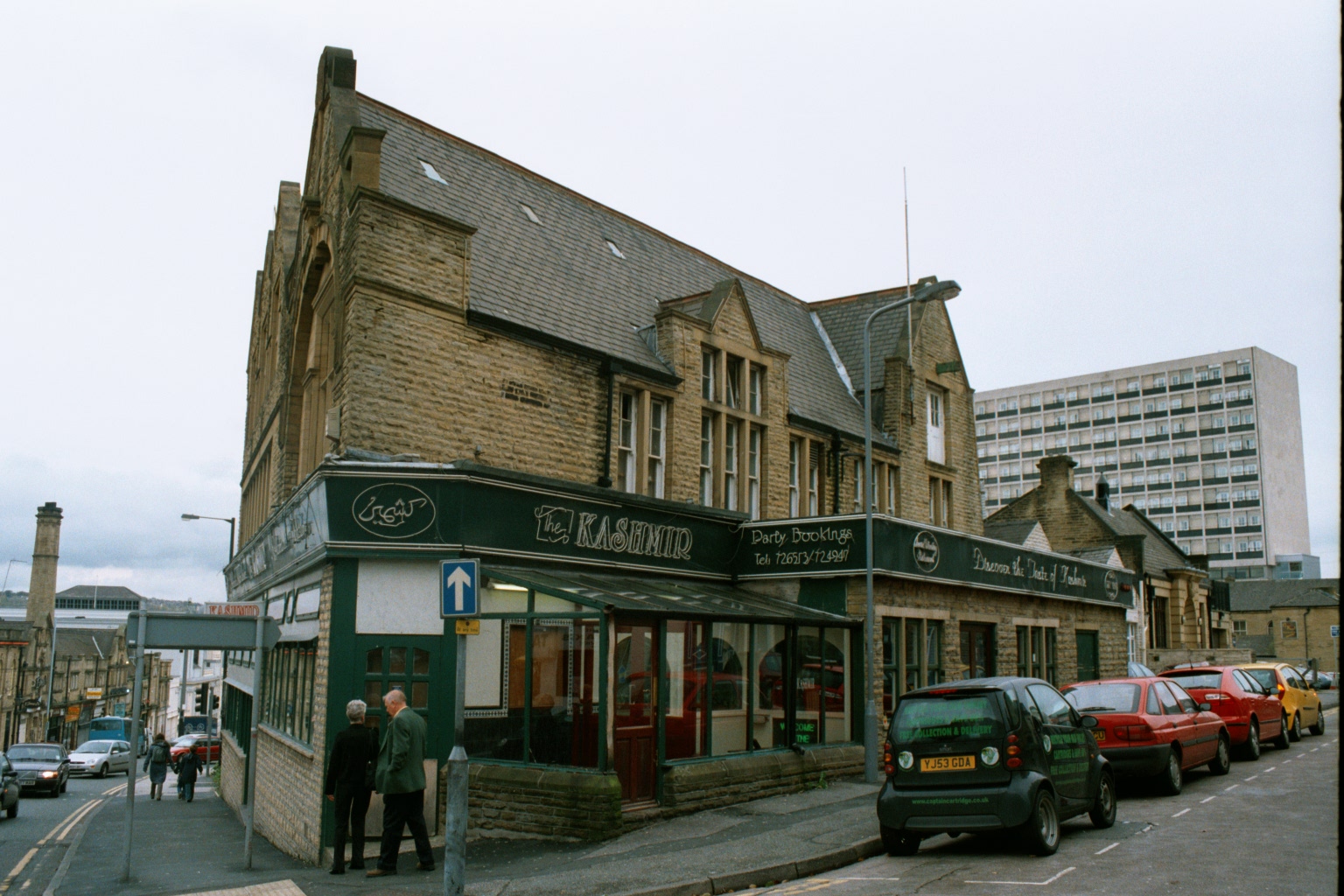 Where's the door? Is it open?
There are no pretensions here. It retains its cafe-style atmosphere and there is almost pub-like assumption by the staff that the regulars are happy with their "usual" without any fuss or frills. A nod and a flourish of the menu are all that's required before the order is shouted over to the chef.
The Kashmir rarely advertises or promotes itself at events, seemingly happy to survive on regular trade and reputation. If there were a tour of legendary establishments in the city, the Kashmir would be on it, along with the Fighting Cock pub.
So onto the food. The onion bhajis and mushroom pakora are always worth having as a starter. Quickly served, steaming hot, solid but not bready. Big portions are served with thin raita, salad and tap water on every table (no fancy bottles, just jugs of Yorkshire Water in school dinner glasses).
Sauce and salad
onion bhajis - nearly gone
I'm a creature of habit when it comes to the main dish. Even though I'm a meat-eater, I always go for the Veg Rogan Josh. It's more like a spicy stew of mixed vegetables, oily and tomato-rich, garlic and chilli flavours intense. I've tried the meat dishes and like them too, but this one always hits the spot for me.
Meat Madras
Veg Rogan Josh
Thick chappatis help to absorb the oil that is always a feature of Kashmir curries. They're heavy and deeply flavoured, not delicate or refined in any way. The meat isn't always the best quality and it some dishes can be a bit hit and miss.
The place itself has never benefited from a refurb - they tried a few years ago, but it just meant some less-tacky chairs and a lick of paint over the slightly sticky walls.
The pub/cellar environment is part of its appeal to regulars, keen to show out-of-town guests the real Bradford. They'll go home to tell their friends about this "dingy" downstairs place where there was no cutlery but the curries were the best. And that's how the Kashmir survives and thrives. They don't pretend to be anything else.
Meanwhile, half a mile away, across the University campus, there's a new kid in town.
Set up by
Ajaz Akbar
and Sajid Ajoob with chefs from the Sweet Centre on Lumb Lane, Amaan's is a small and smart unit.
"A unique restaurant serving traditional kashmiri breakfasts, lunches and dinners. Our range includes : Channa Puri, Gol Gappay, Halwa, Paya, Maghaz. Complimented by amazing service."
The
menu
offers a good selection of favourites and traditional dishes without being too "fancy". They do breakfasts (the channa puri is fantastic) and a great value lunchtime deal for £5. This includes several starters and a half portion of curry and naan for £5.
£5 special
The food is exceptionally fresh and the atmosphere is vibrant. Large pictures, portraits of Pakistani singers and modern finishing provide a pleasant feel - neither restaurant nor cafe, just a nice place to sit and eat. The service is friendly but not overbearing.
Curly popadoms are a great appetiser and it's onto the main course. Since May, I've had the Saag Gosht (lamb and spinach), the Fish Karahi and the Keema Karahi. They were all extremely good. Less oily than the Kashmir but just as flavoursome.
Fish Karahi
Like any new business should do, Amaan's is using social networks to promote itself. A recent picture of George Galloway visiting the restaurant is on its
facebook site
along with pictures of friends and regulars, all of whom are positive about the food and delights on offer.
This lunchtime, Amaan's was full of local businessmen, families and workers. People were waiting for tables outside.
So let's hope the old boys like the Kashmir can continue to flourish in the city, alongside new boys like Amaan's. Both have their benefits and both can thrive while Bradford's reputation is enhanced by their bigger brothers like the Aagrah and the burgeoning Prashad.